Restoration of old 'FontFont' project
>Wunderkammer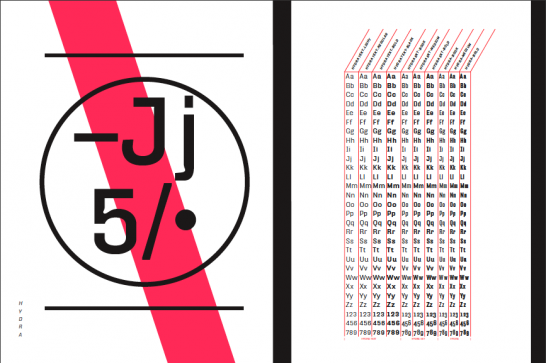 Back in 2005 Jan Middendorp approached me for a contribution to the 'Made with FontFont' book to commemorate the 20th birthday of FontShop: if I were interested in designing a six-page type sampler? Said he had a nice new font for me in mind: Hydra by Silvio Napoleone. I loved the typeface for its heavy duty industrial feel and since then, I've always been on the look-out for an opportunity to use it.*
The design of the pages is inspired on that of old trade catalogs.
Page 1 is a combination of some kind of industrial signage and a corporate sash as seen on contracts and bill heads.
Page 2 shows the alphabet in table-diguise.
Page 3 a pastiche of the good old Berthold pages, in this version using texts form catalogs and price lists form my collection.
Page 4 is just an 'objet trouvé': a back cover ad from a book on motorbikes from Gert Dumbar's collection.
Page 5 is a re-make of an inch-mm conversion table as seen a lot in old tool catalogs.
Page 6 is is a mix of free-style composition and industrial sign referring to a faulty print job.
I had great fun designing these pages but the published version had a mistake on page 3 which I wanted to correct for my presentation picts. It took me three hours before I did find the original file, re-installed the fonts and got everything working again. A proper restoration job – with a small repair to the original.
*) I used the font Hydra Book Black in the wayfinding design for the EYE Film Institute (Amsterdam) in 2011