Tatra 603 folder 1959
>Automobilia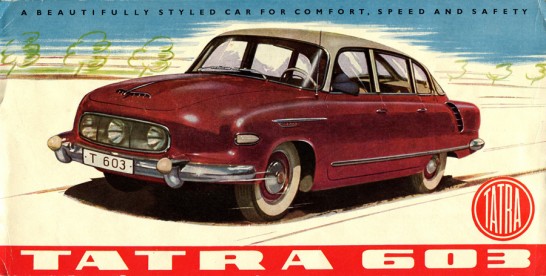 Front of folder: "A beautifully styled car for comfort, speed and safety".
The T603 was launched in 1957. This folder is from 1959. Like the famous T 87 (the one with the tail fin) it had an air-cooled rear engine. With over 5m of length and a width of almos 2m it is not small! But this is a proper 6-seater: three in a row on the front seat – like a lot of American cars of the era (and the more recent Fiat Multipla).
Some words from the folder: "The cosy and roomy interior […] will give you the feeling of safety experienced in your fireside armchair" and: "The TATRA 603 F air-cooled eight cylinder engine of 95 HP power output affords an ample power reserve for any driving conditions or whatsoever."
Where can I have a test ride?
Mid sixties Tatra's focus moved almost entirely to the production of heavy duty lorries.
See film: Autism – Two Tatras – Artyčok.tv