Former teams
As I worked 50% of my professional life so far in Studio Dumbar (1981-82 as an intern, 1984-88 and 1997-2008), here you will find some information about the jobs I did in those days.
[ – ] – [ – ] – [ – ] – [ – ] – [ – ] – [ – ] – [ – ] – [ – ] – [ – ] – [ – ] – [ – ] – [ – ]
In 1988 we were going into our second year of making the posters for the yearly Holland Festival. This was a prestigious job those days. For Zeebelt we had experimented with silkscreen over offset, a technique that gave a lot of freedom and meanwhile conveyed some sort of visual identity by using the same full color repeatedly. Gert (Dumbar) had a plan. He showed us a photo, printed in a book about Salvador Dali. It was a picture of a landscape, a couple of people under an overhanging rock. Putting the book 90º sideways, it was clearly a face. The idea was to create an image by using individual images. This resulted in a design for a classic portrait composed out of music instruments. A whole toy shop was plundered and our then intern Hans Meiboom started to deform and to paint them after which we all went to Lex van Pieterson's photo studio. The result was a 'staged photograph' which was printed in fc offset in a large run.
Several designers made designs for overprints in two colors silkscreen print. I made three of which two are shown here. At the time I was fascinated by what I call 'typostruction', having used it for the the first time a year earlier for some advertisements in 'Zeezucht', the Zeebelt magazine.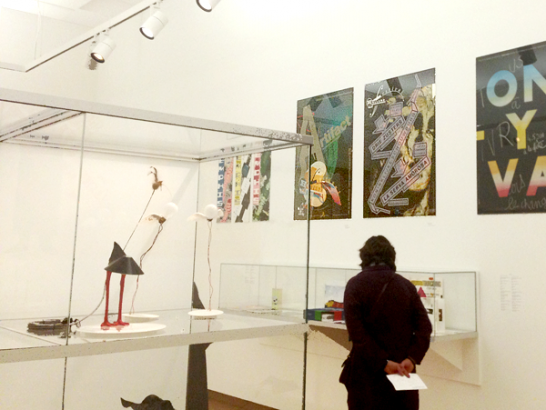 During my first visit to the re-opened Stedelijk Museum in Amsterdam, I was happy tot find out that one of 'my' posters was on the wall, next to one that (I believe) Ton van Bragt made one year later. Striking observation: the visual identity for the Stedelijk consists of very nice 'typostruction'-manner pieces of typography by Mevis & Van Deursen who were interns at Studio Dumbar in the late eighties.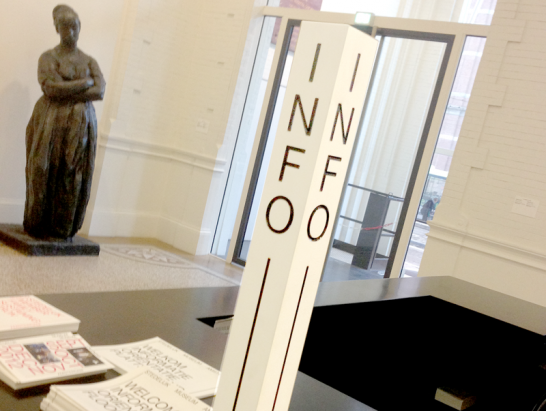 Signposting in the Stedelijk, visiual identity: Mevis & Van Deursen
VVB 2013.02
[ – ] – [ – ] – [ – ] – [ – ] – [ – ] – [ – ] – [ – ] – [ – ] – [ – ] – [ – ] – [ – ] – [ – ]